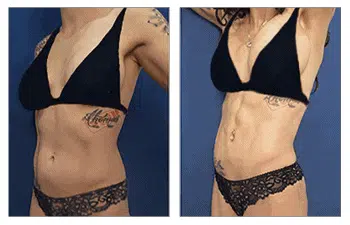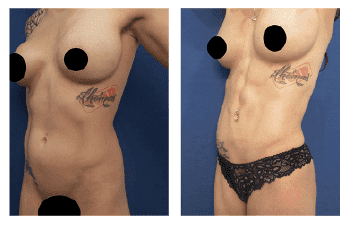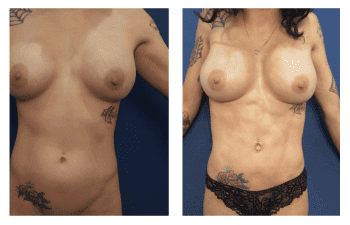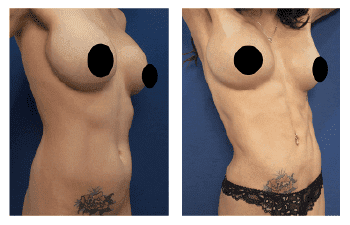 This patient's 4-dimensional high definition liposuction results show circumferential aesthetics. Her abdomen, flanks, back and buttock contouring improvements are her priority.
3d high definition liposuction refers to three-dimensional body contouring. This means utilizing three axis X, Y, and Z to create your sculpture. This is in contrast to a 2d description that describes only an X and Y axis, or a single plain.
4d high definition liposuction describes the extra dimension of muscle dynamics. 4d refers to the way muscle dynamics' shape and function affect the 3d depth perception.
This dynamic fourth dimension created by muscle movement requires recognition. The nature of this liposuction technique coins the term 4d high definition liposuction.
As an example, when the pectoralis muscle is static, meaning not moving, it appears more like a fish in shape. But, then the pectoralis muscle contracts and turns into a butterfly appearing shape.
The gluteus muscle actually looks like a butterfly when it is in static mode. When the gluteus muscle activates, it becomes more square shaped.
High dimensional liposuction sculpts the underlying muscle shape by removing fat. The underlying muscle's static mode and dynamic mode are important while sculpting.
Muscle is a complex structure dependent on working together with other muscles. 4d high definition liposuction considers how muscles interact with each other.
When performing 4d high definition liposuction, you must consider how muscle groups interact. It is imperative to acknowledge muscle borders and understand what exposes these borders.
We can remove superficial and deep fat using ultrasound-assisted liposuction with VASER technology.
Related Posts